Main content starts here, tab to start navigating
Setting the Bar
It starts with the welcoming personalities & exceptional service of our bartenders at your celebration. ECS genuinely enjoys the uniqueness of all our clients & their guests and it shows from the time you click the button below and find an array of options to choose from, to the last guest served at your event.
BAR OPTIONS
Full Bar (4Hrs) $18.95/Guest
Beer & Wine Only ($16.95/Guest)
Ticket + Cash Bar Option ($545 flat rate + cost of Guest Drink Tickets)
Cash Bar (Full Premium Bar w/Set up $595. flat rate)
BYOB, Just the Bartender ($230. flat rate)
Proudly serving Krazy Kombucha's (Probiotic Tea $12. per guest)
Our Bartenders Are Servers:
Dedicated to Your Service
Industry Knowledgeable
Required to possess certification and minimum of three years industry experience
Have engaging personalities
Exhibit the highest level of customer service at all times
Service Options:
You Provide the Alcohol, We Provide the Bartenders
Kombucha
Bottle Service
Host Bars
Open Bars
Cash Bars
Consumption Based Bars
Create Your Own Signature Drink!
Special Stations
Seasonal Entrance Drink Stations
Non Alcoholic Bar
A Few Reasons to Choose Us
Licensed & Insured
Kombucha
Higher standard of Service
Upgrade & Add-On Options
Customizable & Flexible
Include all the extras
Maximum efficiency with the greatest care
Bartenders arrive early & clean up
No Minimum hour requirements
Slide 1 of 3
Slide 2 of 3
Slide 3 of 3
Kombucha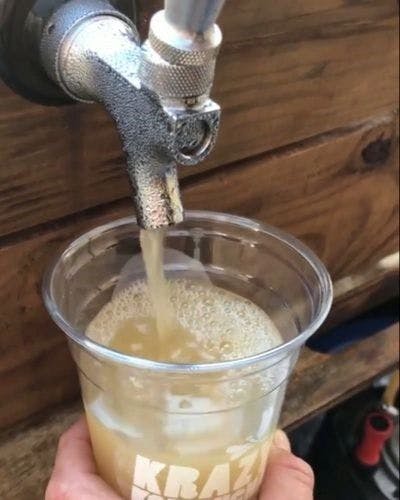 Kombucha on tap Bar service bartender bar tending alcoholic beverage catering mobile bar bottle serv
A Healthier Beverage to Add to the Party
Kombucha is a Live Probiotic Tea. Drink regularly, it can build a healthy gut. Made with organic cultures of bacteria and yeast, called a SCOBY, a blend of organic Oolong, China Black, Gunpowder Green and White Peony Teas & organic Cane Sugar.
Add Kombucha to the Bar!
Your guests will thank you for thinking of their health too.
Flavors:
Ginger
Made with Fresh Organic Ginger & Organic Apple Juice
Mango
Made with 100% Juice smoothie blend.
Berry
Made with 100% juice smoothie blend.
Organic Strawberry
Made with local Fresh picked Strawberries